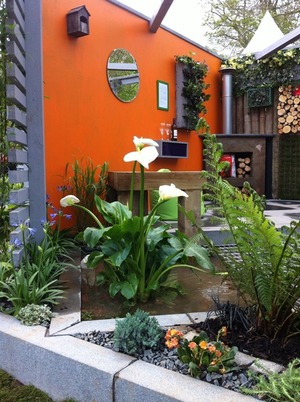 15 May 2014
Ryan Mc Gee from gardendesignandbuild.com has been awarded Gold for his 'Family Time" show garden at this years Garden Show Ireland which took place at Antrim Castle Gardens from 9th - 11th May. Finalists from all over Ireland gathered to discover who would claim Gold in the UTV's Magazine Show Garden Challenge and the winners were revealed by gardening guru and broadcaster Alys Fowler.
The UTV Show Garden Challenge tasked garden designers to design and build a 5x5m garden 'which balances inspiration with financial viability' and that is 'fun, useful, easy to maintain and a relaxing space. Hailing from all over Ireland the four finalists were Ryan Mc Gee from Ballycastle, Micheal O'Reilly from Belfast, James Sheridan from Carnmoney and Chris Kingham form Monaghan. Each presented different interpretations of the theme and the winning garden became the centre piece for filming for UTV's The Magazine which was broadcast on Friday 9th May.
The finished gardens were judged by a prestigious panel comprising of Ireland's world renowned plants woman Helen Dillon, gardening Guru Geoff Stebbings and Reg Maxwell - former Head of Botanic Gardens and winner of Best in Show at the first Garden Show Ireland event 10 years ago. Head of the judging panel Geoff Stebbings commented, "The standard this year was extremely high and incredibly competitive. Designers used the theme to the best advantage and the different interpretations were most interesting. "
Other awards announced included the Growers Awards and the Team Garden Challenge, supported by The Enkalon Foundation which was open to everyone from community groups, sports clubs, charities, companies and colleges to groups of friends and families. With this year's theme of a Kitchen Garden, teams designed a 3m by 3m garden and then built their plot in one day on Thursday 8th May - the day before the shows opening.
Taking place in a brand new venue for 2014, an expanded new look Garden Show Ireland included appearances by Alys Fowler from BBC Gardeners' World, Ireland's world-renowned plants woman Helen Dillon and Bunny Guinness - winner of 6 Chelsea gold medals, author and regular panellist on BBC's Gardeners' Question Time. With thousands of specialist plants, great garden shopping, garden designers and show gardens, a craft village, a free design pavilion, artisan food stalls, live music, garden gourmet, garden challenges, a dedicated kids zone and more, the event was the ultimate garden show for gardeners of all ages and experiences.
Ryan said of the experience 'It is our first time to enter anything like this and so we were over the moon to be awarded the prestigious Gold award on our first attempt. We really enjoyed the experience for the most part. As the garden was built in one week the wet weather conditions posed a number of logistical problems'.
'We would strongly consider doing the show again next year but we will wait to see the uptake on this year's garden. Now that we have won Gold award we may have a bit more standing to approach potential sponsors which would allow us to build bigger and better show gardens'.