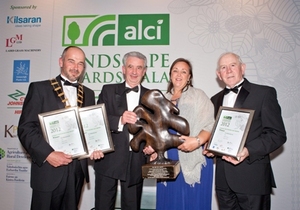 17 April 2013
Entry Forms now available for 2013 Awards
We are pleased to announce the commencement of the 2013 ALCI Landscape Awards. Entry forms are now available to download here. Completed entry forms should be returned to the ALCI office by the end of June so now is the time to start planning your entries. Have a look at potential entries and start putting together your entry packs.
In a change to the usual Black Tie Awards Gala and to reflect the current challenging economic climate the awards will be presented during a new format lunchtime event. The event will be held at the Thomas Prior Hall, Ballsbridge on Friday 18th October 2013 and ticket prices will be approx. £20.
Also this year we have added a new award for excellence in both design & build by a contractor.
Please see below a list of some of the requirements that you can start working on now:
Project description & details of work carried out
Copy of plans (if available)
Photographs of completed project (high resolution on disc & hard copy)
Letter of permission from client
Map or details to site location
Judging will take place during the months of July or August and as always judges will make an initial selection for site visits from the photographs, plans and briefs sent in with entry forms and in a change to judging criteria 10% of marks will now be allocated for the Entry Pack. So it is even more important to give your entry the best possible chance with a complete entry pack and good quality photos of the completed project. Details of how marks will be allocated can be found at the back of the entry Form.
Remember - winning an ALCI award could give your business a competitive edge and an invaluable marketing opportunity.