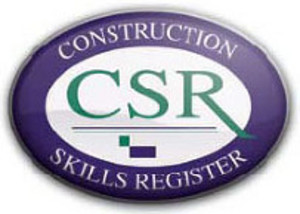 01 November 2012
Members have highlighted that many of the CSR cards held by their staff have either expired or are due for renewal in the coming months. In response to this ALCI has booked a closed course at a reduced rate for members. Please contact Lyn at the ALCI office to reserve places and send completed forms and payment before 14th November 2012.
Download CSR Application Form here
CSR Health & Safety Awareness Course
Date:               Wednesday 21st  November 2012
Time:               8.45am – 5.00pm
Cost: £60+ VAT per person
No. Places: 22
Location:        Bemac Training
Unit 10, Nutts Corner Training Centre, 17 Dundrod Road, Nutts Corner, Crumlin.
Please note - There is an additional cost of £30 for assessments but once we know how many are required we will endeavour to negotiate a lower price)
Launched in 1997, the Construction Skills Register (CSR) is a registration scheme designed to meet the needs of both clients and contractors and to improve the Health & Safety standards of the industry.  To receive a CSR card at any level, anyone entering a construction site from apprentices to managers must undertake health and safety training.  The health and safety training focuses on the identification of hazards and the avoidance of risks.  In addition, when appropriate, assessment of competency must also be completed.
This one-day course provides the appropriate level of training for all operatives who are required to undertake work on a construction site.
Who should attend:          ●  All site Operatives
                                      ●  All site visitors – Yellow card
                                      ●  Those requiring renewal of existing cards
Following successful completion of the course, and where required, an occupational assessment must be undertaken to assess the level of card required.  This assessment (depending on the number required) can be competed on the same day as the course or we can arrange an alternative day for assessments. Please advise at time of booking if assessment is required.
Course Contents:
·         Health and safety at work legislation
Accident reporting and emergency procedure and fire prevention
Accident prevention
Manual handling
Working at heights
Personal protective equipment
Noise and vibration
Working with electricity, underground and overhead services
Use of hand held equipment and tools
Safe use of vehicles
Excavations and confined spaces
In addition to completing a booking form please also complete a CSR Application form (a copy of which is enclosed with the newsletter), which should be completed and signed at Sections 5 & 7 (if applicable*) and posted back to us by return.  Photographs will be taken on arrival at the training day.
Please complete an attached booking form and CSR Application form for each place required and return it with your payment by before 14th November.