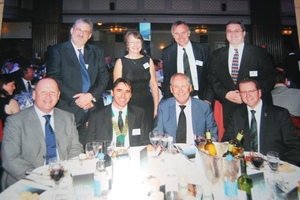 01 February 2012
ALCI President Keith Crawford's report on the 2011 BALI Awards
The Great and the Good of the British Landscaping Industry, converged on The Grosvenor 
House Hotel, London on Friday 2nd December 2011, for the 35th Annual BALI Awards.  
The scale of this event is impressive, with well over 700 people attending.  Amongst this illustrious crowd I was delighted to be present, representing ALCI, as a guest of BALI.
This year's event was hosted by the author, broadcaster (BBC The One Show) and former MP, Gyles Brandreth, who did a superb job of efficiently steering the program through a myriad of award categories, while entertaining the guests.  Whether the individual sponsors and BALI officials will be able to forgive the humour directed towards them, during his introductions, remains to be seen.
Despite the number of people attending the Awards Lunch, it is a remarkably friendly event.  There is a great level of goodwill between ALCI and BALI, with many of the present and past BALI Chairmen recounting with fondness their visits to previous ALCI Awards, and the hospitality they enjoyed.
Despite the problems of last winter and the current economic climate, these awards demonstrated BALI members ability to deliver a high quality service to their clients.  Like the ALCI Awards this allows our industry to show case our craftsmanship and clearly demonstrate our professionalism to existing and potential customers.